DoctorHealth Features and Functions
Continuous Cardiac Monitoring.
- Anytime, Anywhere -
ITI Technology is a health-tech company developing, producing and marketing certified devices for continuous in hospital and in-home remote patient monitoring. DoctorHealth Device is a precision quality product made by our partner in Switzerland. It is the most patient friendly medically certified wearable with ergonomic and aesthetic designs for continuous wear (also during sleep), long battery life of 8-15 days. ITI's offering is the basis of telehealth, for continuous monitoring of patients in multiple disease areas: cardiovascular diseases, oncology, stress related diseases, recovery, etc. Smart analytics produce relevant data for timely detection of heart rhythm anomalies. DoctorHealth Device is medically CE-MDR certified and under processing on US FDA 510K Q4 2022. Detect, test, and validate heart, lung, and psychiatric conditions in collaboration with hospital and medical center expert partners.
Clinical evidence for multiple use cases. ISO13485 and EU-MDR certified
Built in close collaboration with clinical professionals. 
Flexibility to develop custom solutions
Battery life 8-15 days.
Ergonomic and aesthetic designs that stimulate continuous wear
Secure and Private Health Cloud, GDPR, Anonymization, Swiss Made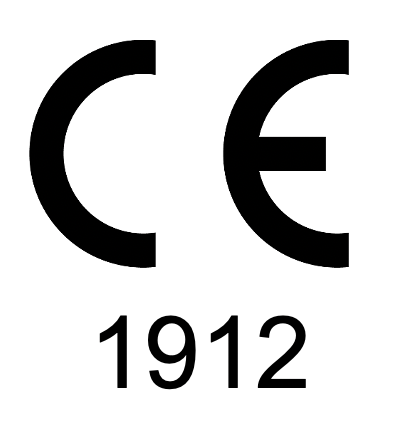 Wireless remote monitoring system for continuous collection of physiological data in home and healthcare settings. 
Data is transmitted wirelessly from the device via SMT Monitor or DoctorBot to a health cloud where it is stored and made available for further analysis.
Sleep (validated PPG-Based Sleep Staging – Jul. 2017)
A-Fib (CE Class IIa Certified algorithm Preventicus – May 2018)
Activity Type, Speed, Cadence (validated VSO ELAN – Nov. 2019)
Heart Rate (validated CCN – Mar. 2021)
RR intervals (validated CCN – Mar. 2021)
Respiration Rate (validated Haaglanden Clinics – Jun. 2021)
SPO2 (validated CMC – Jun. 2022)
Core Body Temperature (validated GreenTeg – Mar. 2022)
Blood Pressure (in development Reinier de Graaf – Feb. 2023)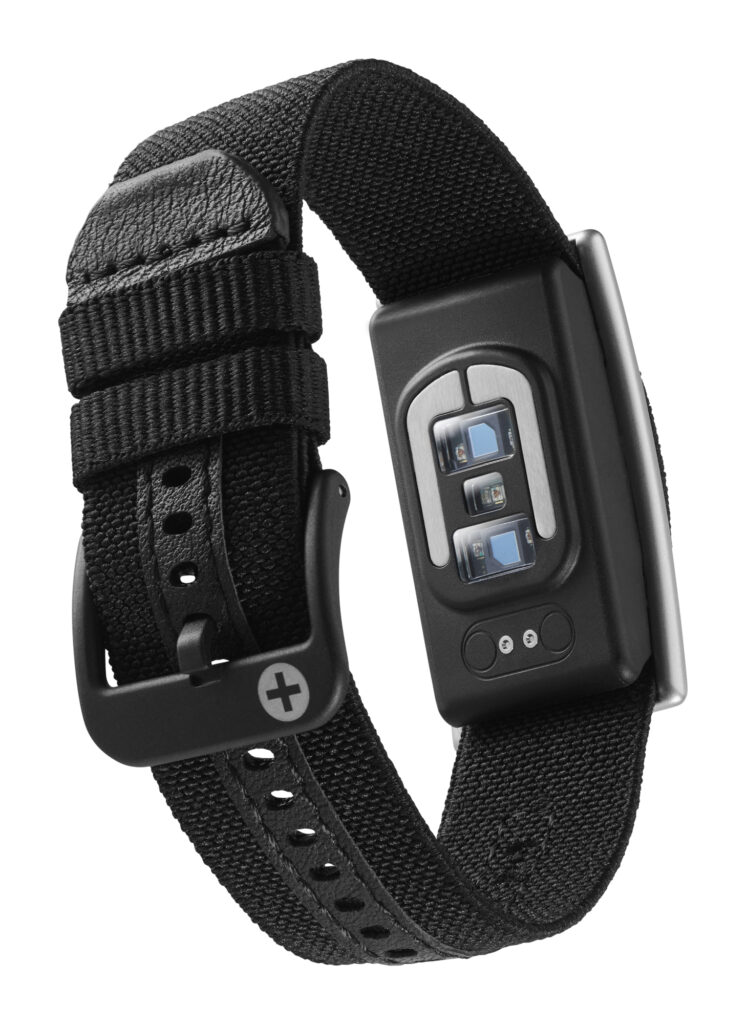 Diagnostic & remote medical monitoring
Digital mental health & wellness
Telemedicine & telehealth
Hospital & ambulant patient monitoring
Digital therapeutics, corporate well-being
Remote care-at-home programs deliver improved clinical outcomes, lower costs and better patient experience : 38% reduction in cost of care : 70% reduction in readmissions : 50% improvement in patient mobility
Continuous monitoring of
cardio-respiratory function
PPG sensor consists of an LED and a photodiode and measures fluctuations in the light reflected from the arteries and arterioles in the subcutaneous tissue.
From the light fluctuations measured the actual heart rate and potential cardiac arrhythmias can be detected. In addition to the PPG sensor the accelerometer provides data on the activity level, and analyses heartbeat and especially heart rhythm – simple and at anytime.
A-Fib algorithm has been validated and detects irregular heartbeats (e.g.extrasystoles) as well as the presence of absolute arrhythmia with suspected atrial fibrillation (AF).
Flexibility to set data collection intervals by minute, by second or 25Hz, 32Hz
and 128Hz.
Measure Heart Rate, RR intervals, Breathing Rate, A-Fib detection, SpO2, Core Body Temperature, ECG, Activity and Sleep. Blood Pressure algorithm.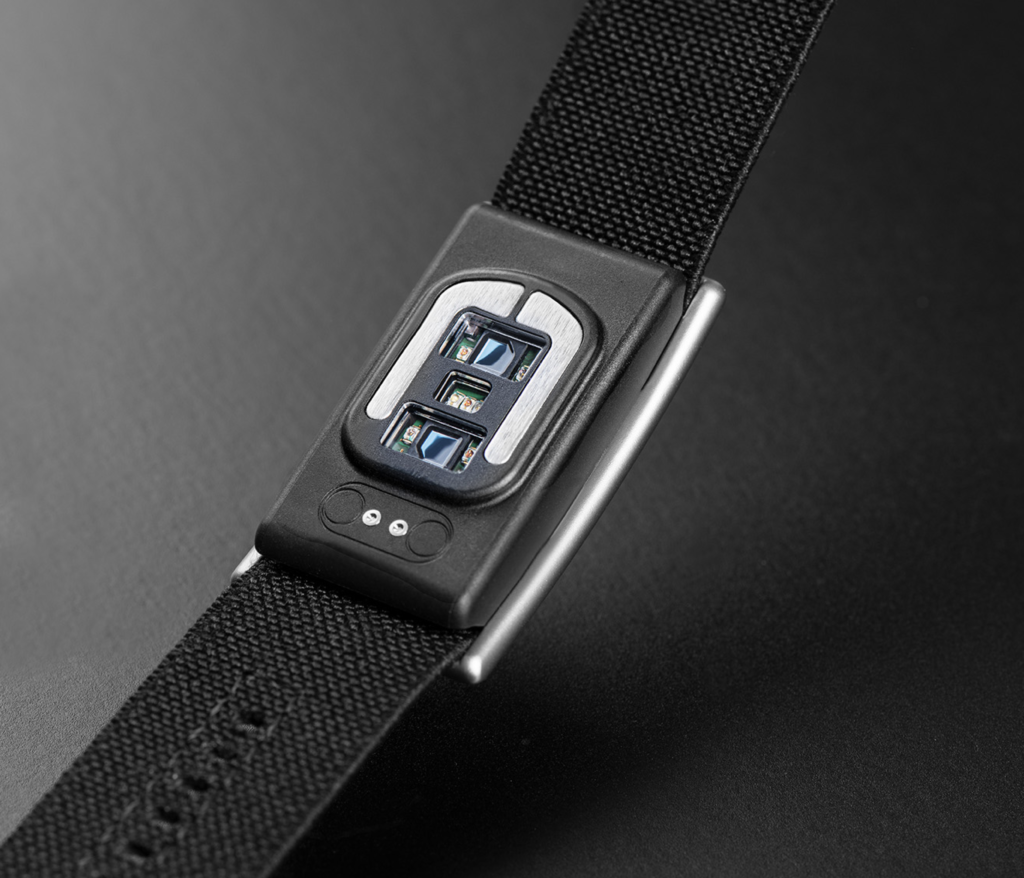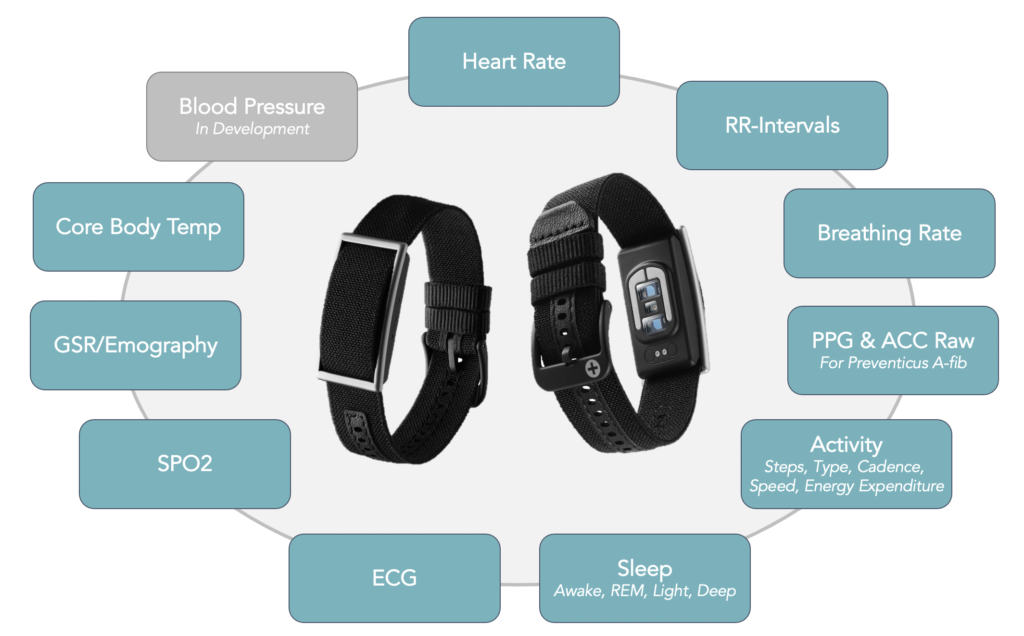 Validated Data and Vital Parameters
Technology applied with two core values : medically reliable and correctly validated.
Monitoring processes are developed and operated for strategic partners, customers, clinical
organizations, and patients.
IT Technology works closely with cardiologists, scientists, hospitals, patients and research institution. Vital parameters collected are used for detect and monitor changes in health status and physiology 
Inpatient management and treatment efficiency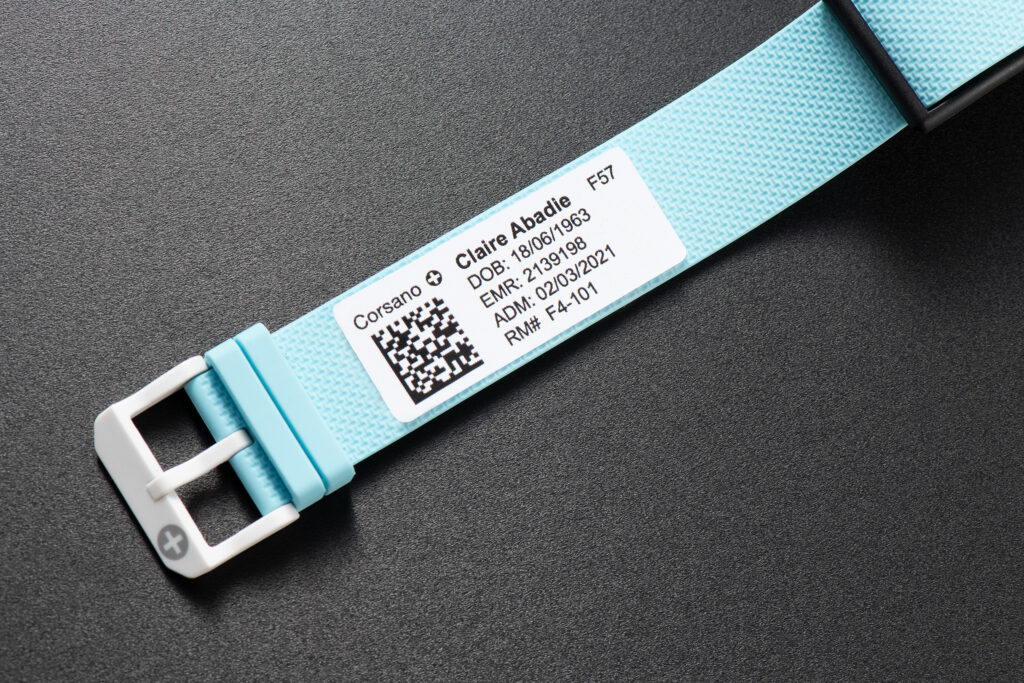 Once a patient has been admitted to a hospital, patients will be checked on by the nursing staff every four hours (even during the night) with nursing teams being overworked and understaffed manual checks of patient vital signs and manual data entry may lead to errors and omissions.
New system with DoctorHealth
DoctorHealth eliminates the need for manual data entry by syncing patient vital sign data directly into the EHR system via DoctorBot or SMT system.
Patient Comfortable and Convenience patients can move around freely as well as sleep through the night without interruptions, which has been proven to lead to faster healing.
All this whilst having the reassurance that the physician is making the best possible treatment decisions based on validated cardiac vitals and core body temperature data.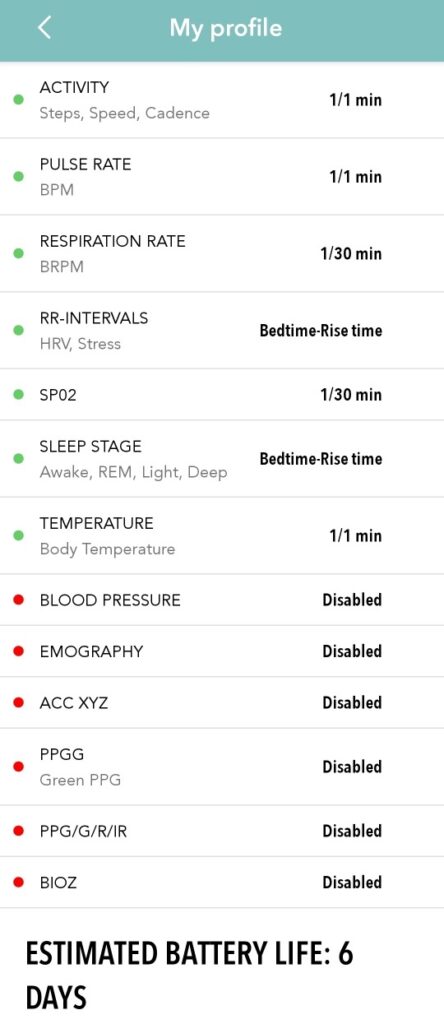 It gives users ability to set the essential parameters that need to be monitored and their frequency.
In the case of specific risk group, the maximum frequency can be set to detect danger signals early.
Atrial Fibrillation detection
management service
Atrial Fibrillation detection management service I
Measurement report [example] Daily provided
1. Summarized results of the heart rhythm analysis,
2. Heart rate in beats per minute(bpm)
3. Original pulse curve over the entire measurement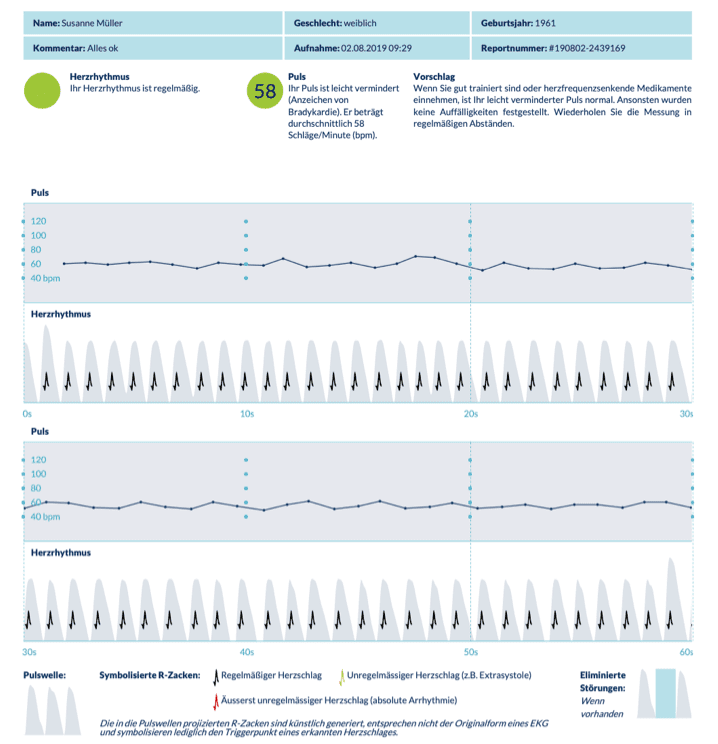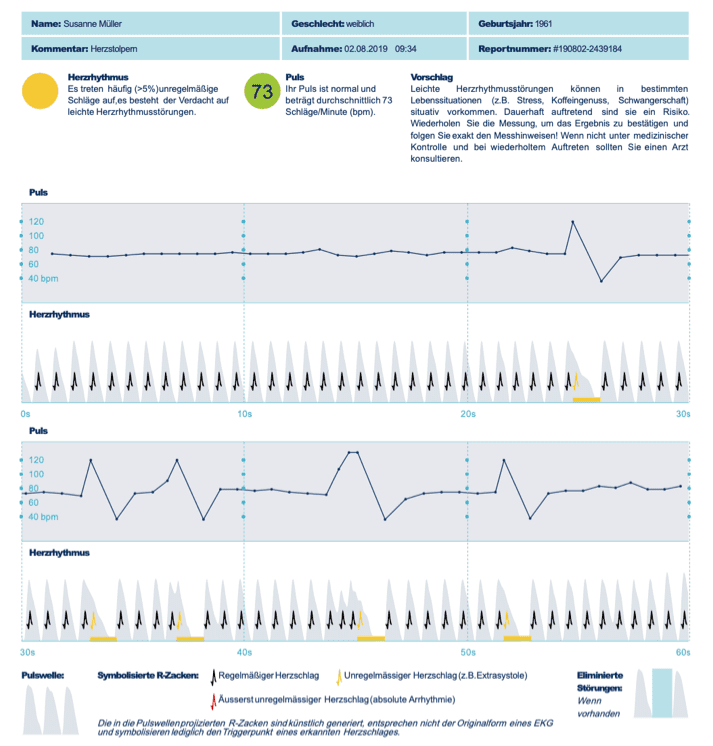 Suspected arrhythmia. Consultation with a cardiologist recommended
Early detect of Cardiac Arrest service II
Coronary artery disease (CAD) is the main cause of a Cardiac Arrest.
Delay to initiation of resuscitation significantly impacts survival rate. Automatic detection of circulatory arrest by DoctorHealth-3 (with LTE) will shorten the delay to initiation of resuscitation. Patients with CAD and patients who survived a prior Cardiac Arrest will wear Doctorhealth-3 continuously.
Cardiac Arrest algorithm monitors continuously and automatically informs the alert center and volunteers reanimation network in case of a detected Cardiac Arrest.
Out-of-hospital cardiac arrest is a leading cause of global mortality.